2019-04-19
Breaking the Barrier is a four-part series during April detailing how credit unions provide financial literacy and inclusion to millions during times of instability and conflict.
While credit unions are busy fighting the daily battles for their members against global financial illiteracy, it is important to stay up to date on if the war is being won.
Part three of our "Breaking the Barrier" series focuses on three respected and trusted entities in the financial sector who track and keep us informed on whether we are winning the war on financial education worldwide.
Knowledge is power. Using it to combat issues that are preventing both present and future members from learning sound methods of budgeting, saving and the importance of credit at a granular level has a tremendous impact on the growth of the cooperative movement overall.
Keep in touch with these three resources:
Global Financial Literacy Excellence Center (GFLEC)
The GFLEC envisions a world free of financial illiteracy where everyone can achieve their dreams. Their participation in monitoring global financial literacy is rooted in three core activities: research, education, and global policy/services.
Standard & Poor's Rating Services Financial Literacy Report
S&P, a giant in the financial services industry, published findings and provided insights of survey data from 2014 that provides trends and conclusions about specific factors that contribute to or reduce global financial literacy.
The World Bank Open Knowledge Repository
An open-source library that contains reports, surveys and knowledge far beyond the topic of financial literacy. A one-stop shop for all things relating to the global financial system and its nuances.
Bonus Resource: HowMuch.net
If you are more of a visual learner, I suggest you reference the global and national data maps on financial literacy provided by HowMuch.net, a visualization provider who makes complex financial topics easy to understand and share with others.
Take a quick look at a key map that uses data and research from the GFLEC and translates it into a visual we all can understand: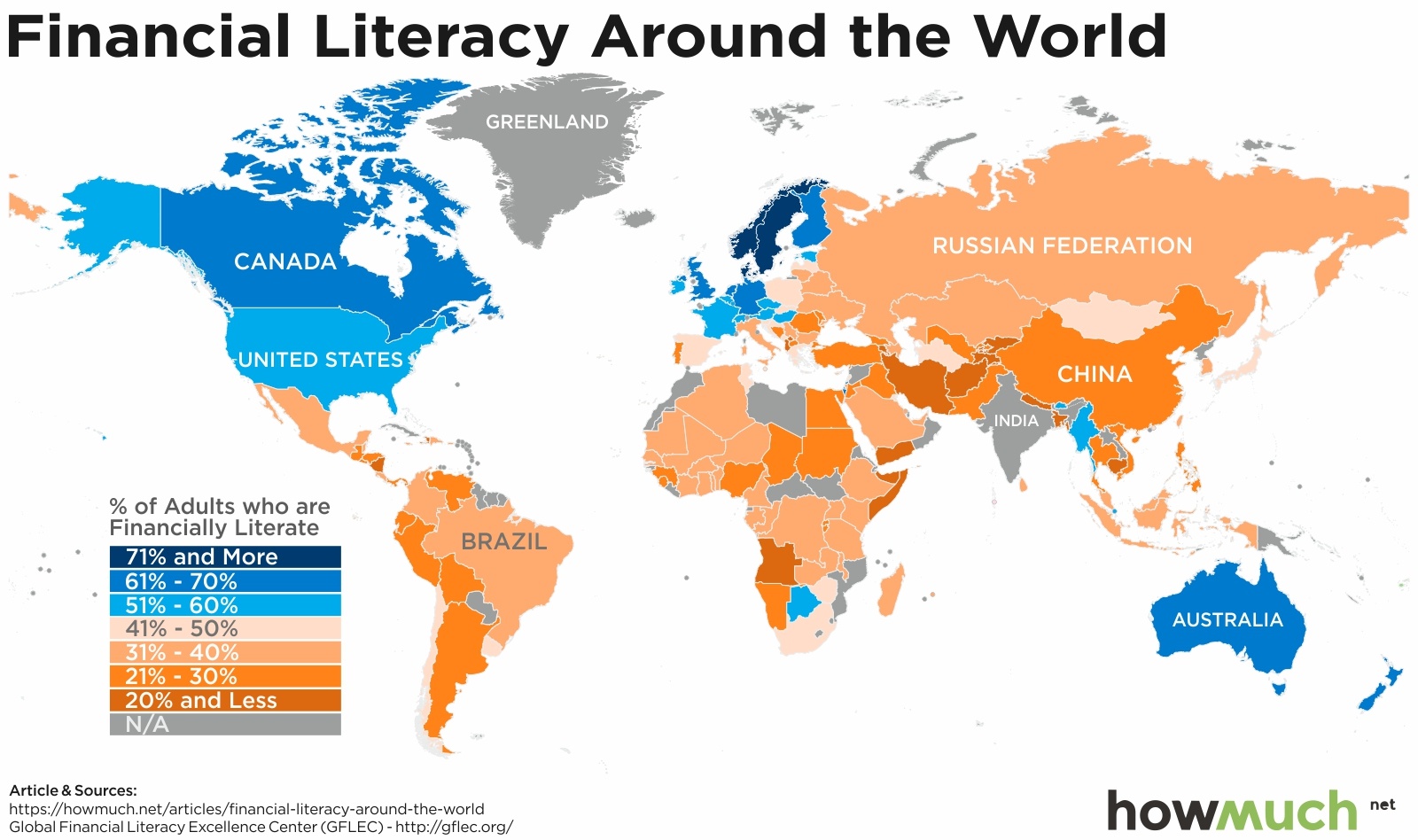 Mike Reuter is the Executive Director of the Worldwide Foundation for Credit Unions, the 501c3 charitable nonprofit that supports the World Council of Credit Unions in its mission of providing financial inclusion to millions worldwide by offering tools and engagement experiences to credit unions looking to do "Global Good" through the credit union movement. Connect with Mike at mreuter@woccu.org.