2019-12-19
When it comes to the Worldwide Foundation for Credit Unions mantra—Do Global Good—the professionals at the Indiana Credit Union League (ICUL) don't just promote it, they live it.
Now, they're formally recognizing when others Do Global Good, with the new ICUL Chairman's Global Good Award.
Established by former ICUL Board Chair and current Worldwide Foundation Board Treasurer Dallas Bergl, the Chairman's Global Good Award will annually recognize involvement in global or domestic projects that further credit unions and their values with immigrant populations or in foreign countries.
Bergl's inspiration for the award came from his personal experience.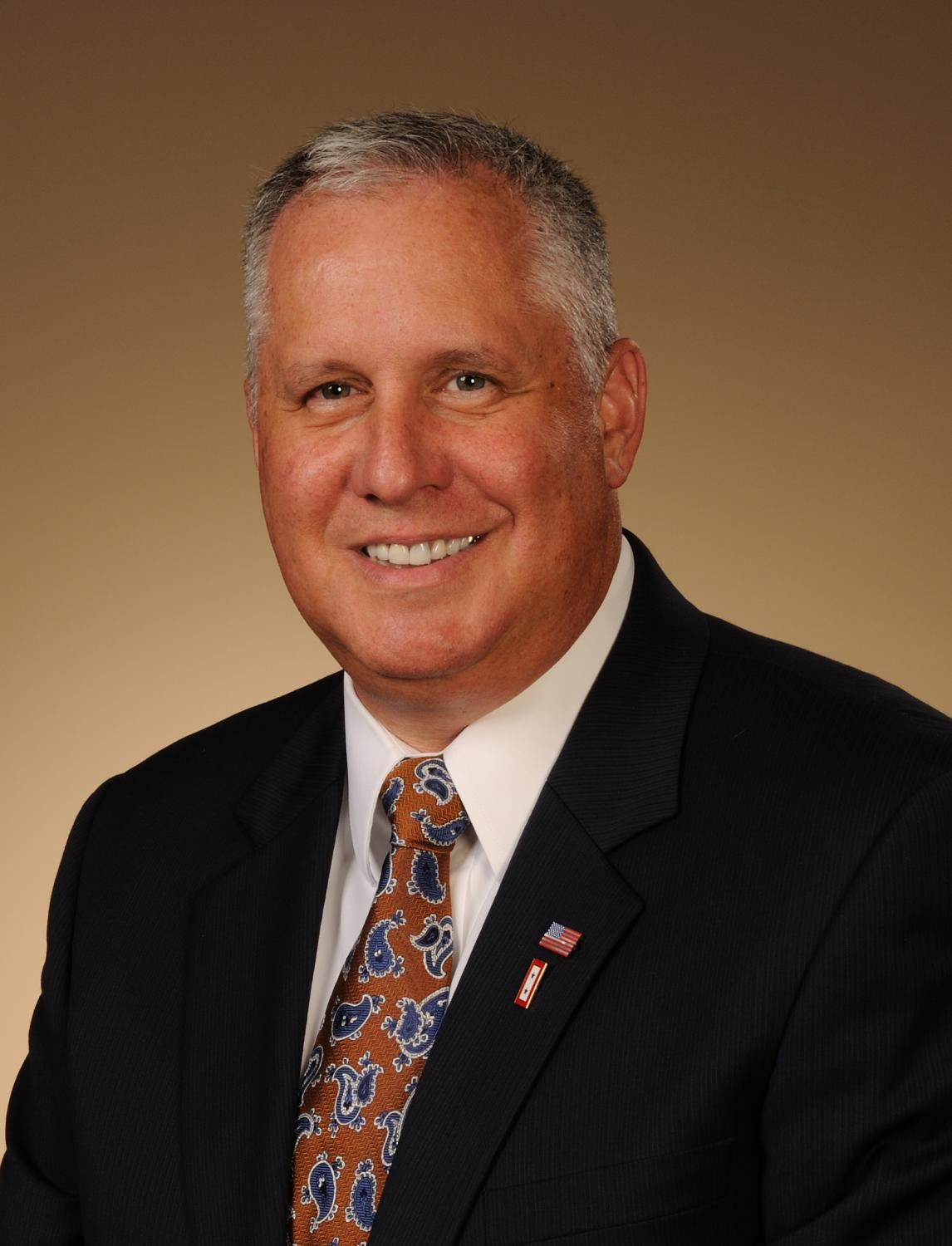 Worldwide Foundation Treasurer and former Indiana Credit Union League Board Chair Dallas Bergl

"Sometimes those of us in the U.S. credit union system get distracted with all of the regulations, cybersecurity concerns, competition and meeting our strategic goals that we lose sight of what our credit cooperatives were really founded to do. I have discovered that when you interact with very small credit unions in developing countries and learn about the amazing work they are doing for some of the most at risk people on the planet, it is humbling, grounding and can reinvigorate your passion for our own movement," said Bergl, who also serves on the World Council of Credit Unions' (WOCCU) Board of Directors.
Through his travels, Bergl has seen the value credit unions provide to members around the globe.
"When you learn how a $100 loan can help a woman in Thailand start a small business that enables her to send her children to school and feed her family, it makes you realize how good we have it back home and how much we can do to impact millions of people around the world with something as basic as access to reliable financial services," said Bergl. "With this in mind, I looked around our own state and observed that we do have many great people right here at home that not only care for their own members, but often go above and beyond to serve the greater interest of mankind. I wanted to do something that would give Indiana Credit Unions and our League a way to say thank you from all of us, to acknowledge the good works that are done without expectation of reward and to inspire others to follow in their footsteps."
Bergl handed out the first Chairman's Global Good Award at the Indiana League's annual convention in October—presenting it to Marco Dominguez, Director of Community Relations at Financial Center First Credit Union.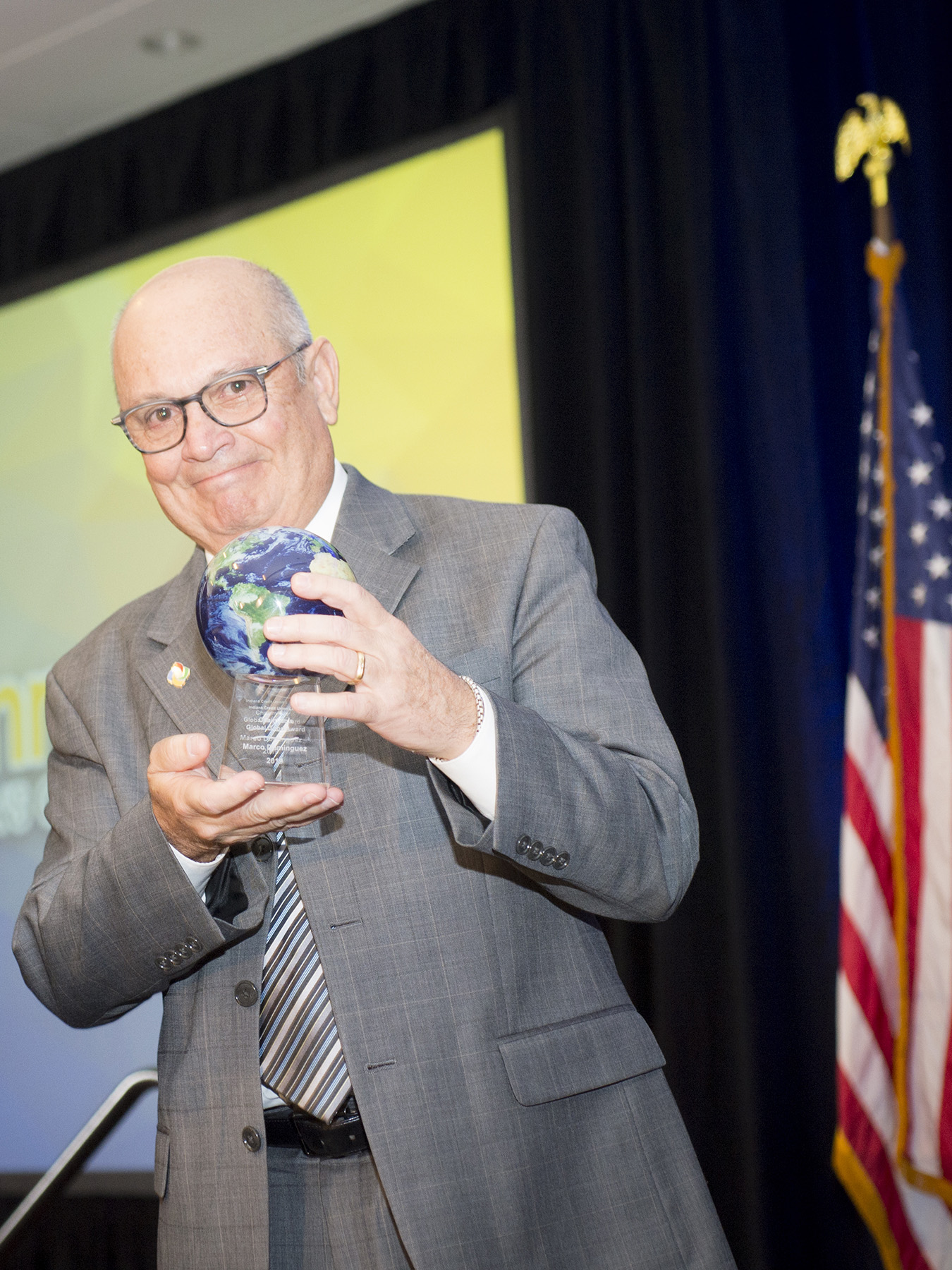 Marco Dominguez with his Chairman's Global Good Award

Dominguez has made many contributions to the global credit union movement—including service work with the Hispanic community in Indiana, financial literacy education and global outreach. He conducts weekly financial education training at the Mexican Consulate in Indianapolis. He has also traveled to Colombia to talk about financial literacy and taught credit union leaders from around the world about how to deliver financial literacy education at the 2019 World Credit Union Conference. Dominguez has also been a gracious host, participant and translator when visitors from other countries have come to Indiana.
"The mission of WOCCU and the idea that we can all Do Global Good through something that is already part of our lives—credit unions—seemed like a great combination for the new ICUL Chairman's Global Good Award.," said Bergl. "I can't think of a better first recipient than Marco Dominguez."
Through the World Council, the Indiana League has welcomed credit union professionals to Indiana from Ecuador, The Netherlands, Dominica, Costa Rica, The Dominican Republic and Guatemala for training, education and networking opportunities at credit unions across the Hoosier State.
That is why it's very fitting for the Indiana Credit Union League to be the first state credit union league or association in the U.S. to formally recognize members who Do Global Good.
But members of the ICUL have also stepped out of their comfort zone to go even further.
In September 2018, World Council President and CEO Brian Branch led a delegation of ICUL members on a historic visit to Dominica, as part of WOCCU's efforts to help the country's credit union movement recover from Hurricane Maria by rebuilding resilient systems through technical empowerment.
And in April 2019, the ICUL and the Dominica Co-operative Societies League Ltd. (DCSLL), signed a historic cooperation agreement to foster greater collaboration between the two credit union movements. The agreement will span areas of technical cooperation, sharing of best practices and strategic initiatives to benefit both movements.
We thank the Indiana Credit Union League for Doing Global Good, and now, for its commitment to recognizing others who do so as well.