2020-01-08
Envision your community not having a Credit Union. How would that void affect its citizens, business and way of life? Multiply that to thousands of communities worldwide and picture what our society would be like.
Our world needs credit unions and its cooperative principles to serve the underserved, advance business innovation, respond to natural disasters and be community pillars, regardless of time zone. Who else will provide unique member solutions alongside our peers for our movement if not us?
In order to ensure that every community is supported, the Worldwide Foundation of Credit Unions is on a mission to improve the lives of individual communities through credit unions and needs your help and support in 2020 to do this. Want to do good? Even better, want to do global good? You can and below are 5 ways you can support the work of the Worldwide Foundation of Credit Unions throughout 2020:


One off donation
Your donations big and small means we can do even more work to advance our global efforts and support communities worldwide. You can make a once off donation in three easy online steps by visiting: DoGlobalGood.org/give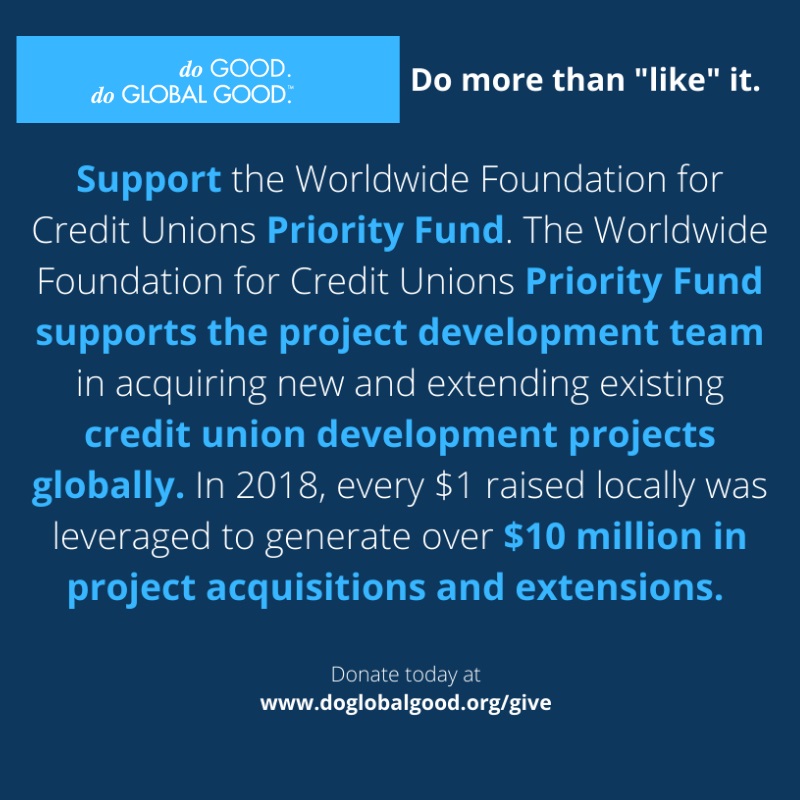 Monthly Giving
Subscription models are everywhere nowadays, and even before services like Netflix revolutionized how we consume and pay for things like TV, we were used to monthly billing. The difference is that they just weren't as smooth or as automated as they are today. Monthly payments spread out the cost over a series of months making them more tolerable for budget and allowing people to plan better.
The same is true with regular giving. It's just plain convenient to add in charitable giving to organizations as a budget item, have it come off a pay check, credit card or right out of their bank. We'll do the work of making sure you get one tax receipt at year's end that illustrates each monthly donation, making it easier for champions to keep tabs on their giving.
We have an easy, five-step process to become a monthly global champion:
Visiting DoGlobalGood.org/give
Select which fund or program you'd like to support with the monthly amount.
Check the "Make This a Monthly Donation" box
Fill out your contact and payment info
Click the "Support WF" button
You should get a confirmation email and special message, welcoming you as a new member of a special group, those that take a step into our global movement to change the world.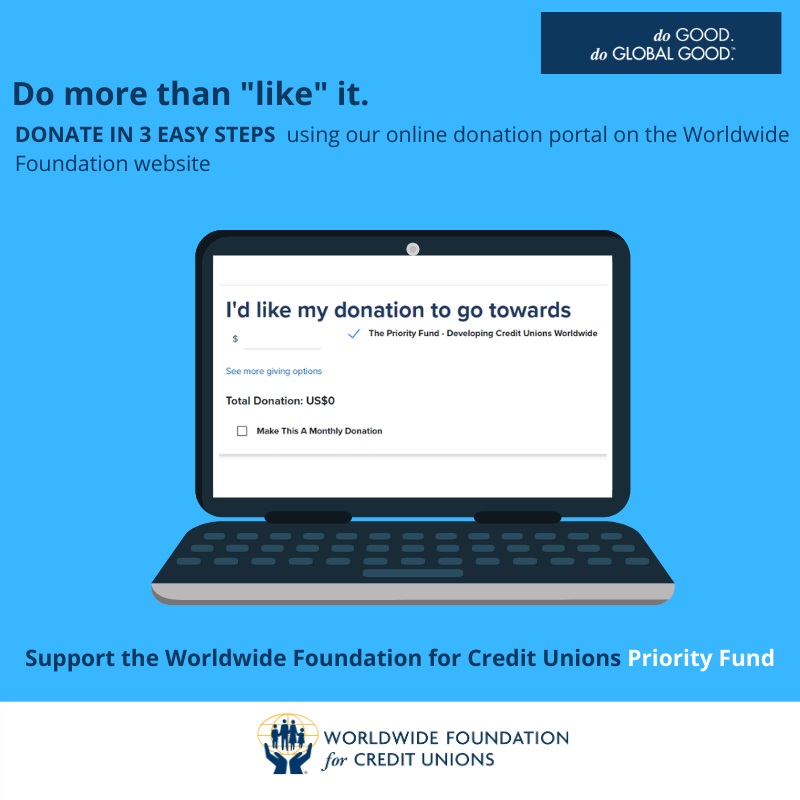 Attending a credit union development event
The Worldwide Foundation has a wealth of enriching experiences that you can get involved with throughout 2020. Below are some well attended and highly anticipated events, don't delay and register today:
Field Engagements
GWLN Events
WYCUP Youth Summit
Global Classroom Events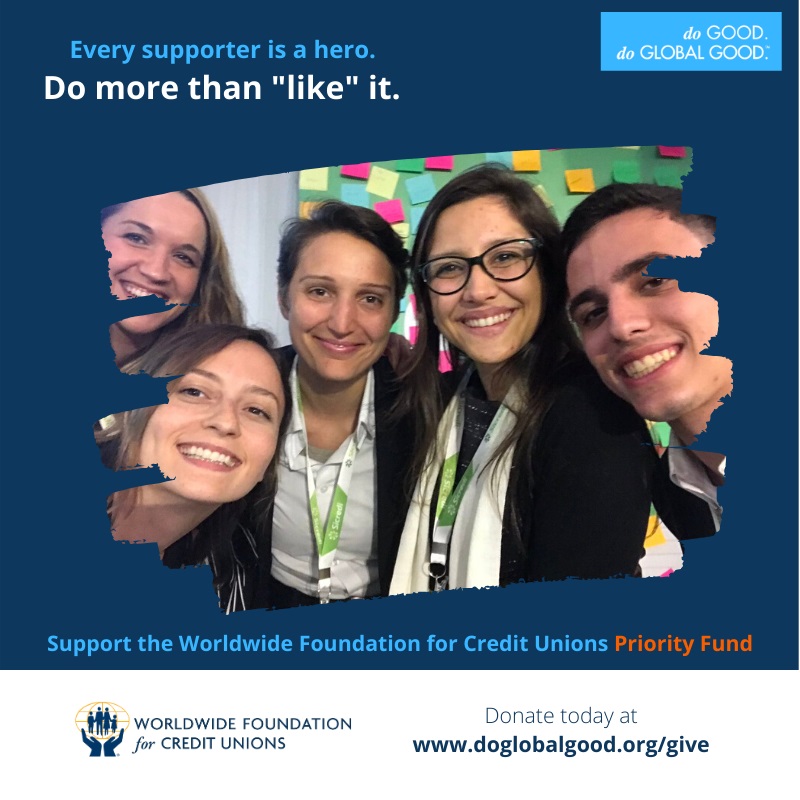 Adopt the Global Good Card
The Global Good Card (GGC) Program is a credit card offering for credit unions that allows the credit union and its members the ability to contribute to the philanthropic projects managed by the World Council of Credit Unions (WOCCU). The program is designed to attract new, socially minded members, generate revenue and provide members with the opportunity to give back on an international scale. Members may be more inclined to adopt the card given the charitable dynamics around the credit union fee structure and the member options to donate reward points. How it works
Register Your Interest here: https://www.doglobalgood.org/globalgoodcard
Download the GGC toolkit
Begin (It really is that simple)
Promote your new card (We even offer marketing support through our partner SerTech)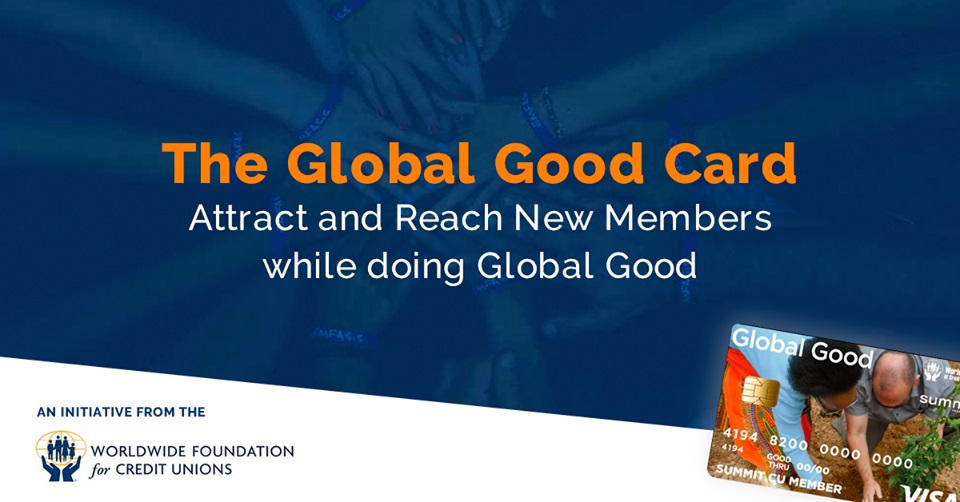 Support a specific campaign
We have a number of campaigns to grow the Global Credit Union system. Each campaign grows our movement and your credit union to serve every member no matter where they live. A remarkable ratio has been achieved with every US 1$ donated generating $50 for the global system to strengthen, sustain and grow. Our campaigns are:
The Priority Fund - Forwarding Financial Inclusion Worldwide
Project Strom Break - Disaster relief response and training
Global Women's Leadership Network – Advancing women in cooperatives worldwide
The Global Classroom – expanding peer-generated learning exchanges globally
World Council Young Credit Union Professionals – passing the torch to the next generation of Credit Union leaders.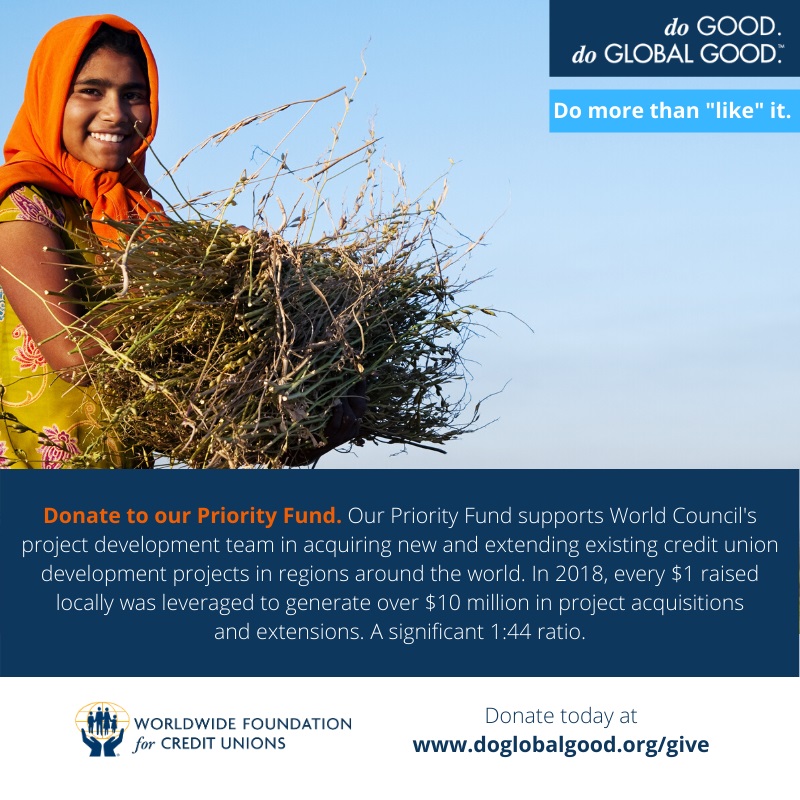 Our work is not easy or quick. It requires expertise, patience and, crucially, financial resources. We depend on our supporters, members and friends to provide us with the funds needed to carry out our work.
For more information on how you can get involved or support us please contact us here: https://www.doglobalgood.org/contact_us
Don't delay. Do Good. Do Global Good.