August 11, 2017
We flew into Kiev from Vienna. Others came from the US, Poland and Kenya. After three years of war, our Ukrainian colleagues were relieved to receive outside visitors.
We visited two associations, the Ukrainian National Association of Savings and Credit Unions (UNASCU) and All-Ukrainian Credit Union Association (AUCUA). Each shared their history and their hope for the future. Our travelers included executives from credit union associations and the discussion was rich on how to establish a strong advocacy program and how to deliver value to the credit unions. The associations engaged with the visitors on how to develop and deliver modern services to their member credit unions. What services do the associations want to expand on or add? What services do their members ask for? Are the members willing to pay for the services? Can the services be provided sustainably?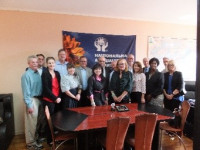 In the afternoon we met for the open forum. Credit unions from outside Kiev came to the city to join us. "How does this work?" they asked, "Normally outsiders come and just lecture to us?" This time there is no lecture, no presentation. We were organized into five circles of chairs, each group made up of one-half visitors and one-half Ukrainians. Everybody rotated to visit each circle for thirty minutes to debate legislative, regulatory advocacy, association services for credit unions, credit union liquidity, agricultural and business lending and member value. High energy
Dinners were a continual parade of traditional folk dishes: meats, mushrooms and fresh vegetables. We floated on the Dnieper and shared toasts to a credit union system eager for contact with the outside world and volunteers willing to travel halfway across the world to pitch in.
We took the train across the Ukrainian field and forests to Lviv.
Credit unions came in from the outlying areas for a roundtable exchange on the challenges to provide services to agricultural producers. We had visited with the local government trying to support rural farmers two years ago and today they were enthusiastic about showcasing the programs they had since then built. If we can provide financing to farmers we can help them increase their production and their per capita income. If we can provide them with access to inputs and to markets at the same time, we can boost their per capita income much more substantially.
A long ride into the countryside took us to rural credit unions. We visited their members on their farms. Farmers stood on their small plots of land in front of Soviet era farming equipment and told a story of starting with their own small plot and a couple of cows, then renting additional land and acquiring more cows to reach a small herd. Hard working people pulling themselves up by their bootstraps and grateful to their credit union for giving them the opportunity.
Almost all acknowledged threatening storm clouds to the East. A few asked us to send arms to defend themselves. But "No", the credit union representatives said, "Support us in becoming prosperous and building up a middle class and then those in the East will envy us and want to emulate us."
This is a time when people can choose to look back to the East and the past of relying on the state to tell them what to do and to give them what they need to live. Or, they can look to the West and choose to depend on their own efforts to improve their livelihood. The people we talked to wanted to build their lives for themselves and within their communities. They are often constrained by having to use old Soviet era machinery, limited experience and lack of capital. But the credit unions give them the opportunity and the hope to improve their lot in life.
Thank you for helping support this work. "It takes talent, time and treasure," Paul tells us. We rely on all of you to provide us with financial support for the work that we do with credit unions around the world. Yet we also rely on you for your talent and time: volunteer support in training, advice and moral support. Through our engagement programs you make a difference, in person, as well. We ask each person to pay their own travel costs and contribute a small amount to support the program.
In October we will travel to Guatemala to help credit unions provide small business and enterprise lending in their rural communities. Contact us if you or one of your staff would like to participate.
Safe travels,
B-
Brian Branch
President & Chief Executive Officer
World Council of Credit Unions