June 15, 2018
In Puerto Rico there are 115 state-chartered credit unions with one-million members and $8.1 billion in assets. There are nine federal-chartered credit unions with 85,000 members and $800 million in assets.
Hurricane Maria caused serious damage to the island. Many businesses did not start up again after the hurricane. Many residents have left the island to look for work. The local economy remains depressed and will remain so for the foreseeable future.
Yet credit unions responded fast to provide service to members within a week after the hurricane, whereas other financial institutions took a month or more to re-open or simply withdrew from communities. This has generated significant loyalty as well as membership and liquidity growth for credit unions since the hurricane.
Still, the largest challenge to the credit unions is the high concentration risk on their balance sheet of Government of Puerto Rico (GPR) Bonds. The GPR has entered into Chapter III of bankruptcy proceedings. Credit unions will suffer reductions in cash flow and capital reserves in bond restructuring.
We partner with the National Federation of Community Development Credit Unions to educate the local credit unions about becoming Community Development Financial Institution (CDFI) certified. All credit unions in Puerto Rico serve CDFI eligible markets: low income targeted populations and investment areas.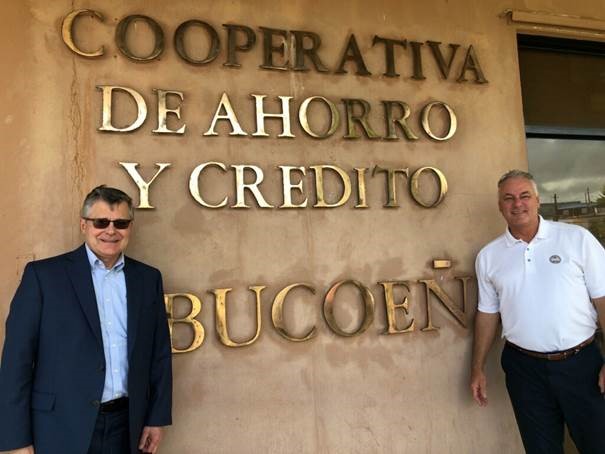 In May, the Worldwide Foundation led a mission to Puerto Rico involving several credit unions from Massachusetts and greater New England to learn about challenges to the Puerto Rican credit union system and infrastructure.
Commercial banks are reducing small business lending in Puerto Rico. Credit unions look to step in and increase their small business lending to support their communities. Credit union lending has traditionally been for consumer finance, so this expansion will require developing a new set of management systems and skills.
Still, given the high levels of liquidity, the limited local lending opportunities and the need to generate income to rebuild reserves, we have explored discussions for Puerto Rican credit unions to purchase loan participations from mainland credit unions. Credit unions need to find a balance to safely reinvest in their own local economy and to generate income.
We work with our system partners to support an orderly transition to a stronger credit union system on the island and continued credit union services to Puerto Ricans.
Safe travels,
B-
Brian Branch
President & CEO
World Council of Credit Unions