August 12, 2018
We depend on financial support of credit unions for the work we do. We also depend on the commitment of personal time and voluntary effort of credit union people to make a difference in the lives of many around the world.
The Worldwide Foundation carries out several engagement programs in the areas of: (1) Service, (2) Study, (3) Consulting/ Advisory, (4) Advocacy. In July, we traveled with a group of volunteers from the US, Australia, Brazil, Ireland and Kenya to study the Asian credit union system and to engage in "strategic-futuring" with credit union leadership from 12 Asian countries.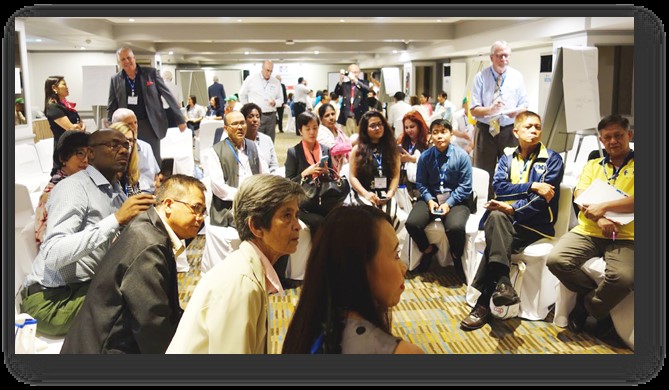 The Asian Credit Union Confederation (ACCU) supports 30-thousand credit unions serving 35-million members in 23 countries. ACCU direct members Korea (5 million), Nepal (6 million) and Philippines (5.7 million) have the largest number of members. Eleven-million of the credit union members live below the poverty line of less than US$2 a day.
ACCU works with its members to strengthen and promote growth and sustainability of credit unions as effective instruments for socio-economic development of people in Asia. In operational terms, ACCU supports its country members with Leadership Development and Training, Professionalization through systems development, policies, products, planning and Quality Assurance through branding and benchmarking. ACCU has embarked on a strategic priority to help its members build Network platforms.
The opportunities for credit union development which ACCU pursues include:
Reaching the "Have Nots" and economically active poor
Asia has a population of 4.4 billion (58 of the world's population). In Asia, there are 766 million people (17%) living below the poverty line.
Today, ACCU is helping credit unions reach out to the unserved who do not have bank accounts or savings and who rely on a cash economy.
Self-regulation
With credit unions under increasing regulatory pressure, ACCU looks to organize national associations to provide effective monitoring and supervision of their member credit unions.
Such network integration requires commitment to sharing of resources, standardization, contractual solidarity, governance and discipline.
Empowering Women
66% of the poorest people in Asia are women.
ACCU has launched Women's Business Development Centers in the Philippines and Thailand to improve the business performance of women-owned businesses. The centers help businesses start up or move from the informal sector to the formal sector. They also develop the leadership skills of women and their involvement in credit union governance.
Technology
ACCU is piloting a share payments platform for credit unions in the Philippines.
The platform supports teller services, mobile banking, ATMS and POS.
There are two associations for credit unions in Thailand. The Federation of Savings and Credit Cooperatives of Thailand (FSCT) serves savings and credit cooperatives (or SACCOs), which are employee or common-bond based. The Credit Union League of Thailand (CULT) serves community-based credit unions. The two systems have 1,969 credit unions serving 4 million members. Both types of credit unions were established under the auspices of the Ministry of Agriculture and today are under supervision of the Ministry of Finance.
Both talked of commitment to the economic empowerment and development of their members. Services responded to the life cycle of members: from birth allowance, education scholarships, small business loans, vehicle loans, health care allowance, life insurance, pension and funeral.
We explored the common challenges and the diversity of responses to the key issues for credit unions in Asia and the world today. Their top themes were the same top themes we talk about so often: regulation and advocacy, technology, supporting entrepreneurship, governance and poverty alleviation.
What is most striking of Asian credit unions is the depth of their community commitment. What is concerning is the low level of capital reserves among credit unions. As the pressure for regulation and supervision increases in Asian credit unions, it is critical that they increase their capital reserves so that they can be sustainable, but also so they can adjust to the regulatory pressures from a position of strength. As they do so, it will be critical that they do not lose the depth of their member and community commitment.
World Council will continue to work with ACCU to support their strategic initiatives for Asian credit unions.
Safe Travels,
B-
Brian Branch
President & CEO
World Council of Credit Unions