October 14, 2019
The global credit union system reached the Vision 2020 target of 260 million members at the end of 2017, three years early. Yet not all credit unions or country systems grew equally. Those credit unions that offered their members robust online and mobile channels grew, while those that did not showed stagnant growth. Smaller country systems that used shared payment platforms showed growth, while others without digital channels lost market share and displayed little growth. The next challenge is not a new number for membership growth, but instead, addressing the channels for feeding membership growth for the future.
Challenge 2025 became the digitization of the global credit union system: automation of back office processing, digital online and mobile channels of access and integration into the national payments ecosystem.
The Bill and Melinda Gates Foundation stepped in to support us in piloting the implementation and development of a map for digitizing credit union systems in The Philippines and Indonesia, specifically including research and design for credit union-owned interoperable digital payments systems. As we assessed the various credit unions and associations in both countries, we met in Kuala Lumpur to share our lessons and map the next steps. We also looked at other credit union systems that were well down the road to digitization with access to a wide variety of digital partners and nationally-common interoperability like the US, Kenya and Canada or via shared innovative platforms such as those in Australia, Brazil, Korea, Ecuador and Guatemala.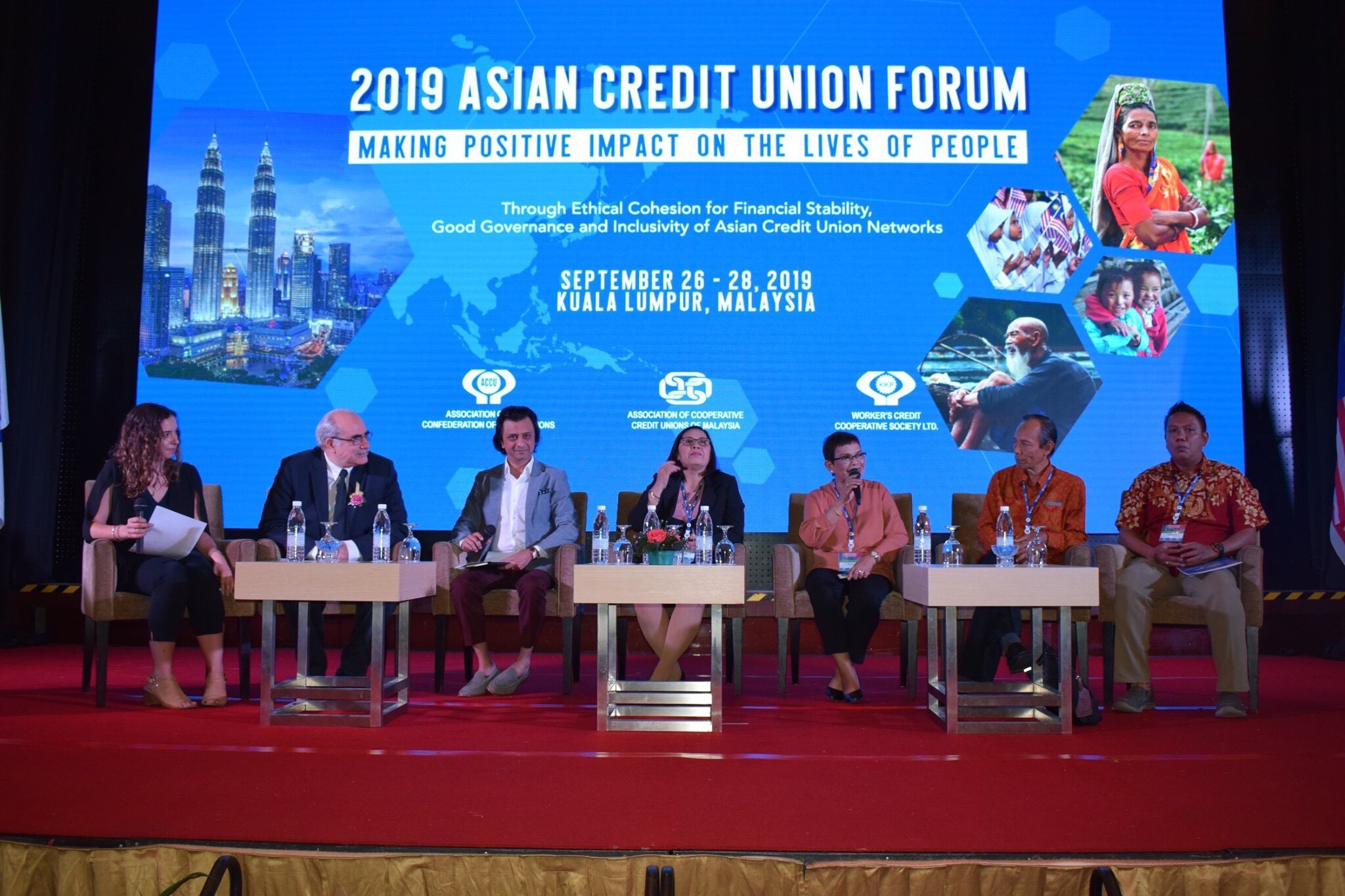 World Council Project Development Officer Grace Vottero (far left) and President/CEO Brian Branch (second from left) join panelists at the 2019 Asian Credit Union Forum in Kuala Lumpur, Malaysia last month to talk global digitization.
As we move forward, we identified the common lessons to date:
Consumers want to be free. If we do not respond to their expectations, they leave us for others who do meet their expectations.

Members want to access services via mobile and online channels. Today consumers do their communications, social networking, news access, payments and commerce via digital means. It is only natural that they want to access financial services via digital means.

It is important to have a system strategy. We are still small market share players in many countries and dwarfed by the investments that large stockholder financial institutions can make in technology. A strategy requires leadership to look at the bigger picture of how the country can pool resources to afford technology, negotiate as a group with vendors and offer seamless consumer experience connected to the national payments system.

We need partnerships. This is not about fighting the Fintechs for control of our members. The Fintech players are multiple; some are potential allies and some are competitors. Some can be our partners to enhance our members' experience, while some can be exploitative and bad for our members. This is about how we find experience and expertise in the market to enhance our services to respond to the demands of the members.

Credit unions have a unique value proposition. We, as credit unions and as credit union associations, are specialized in financial services, economic empowerment and relationships. For us, financial services are more than a commodity. We, as credit unions and as credit union associations, are specialized in financial services, economic empowerment and relationships. For us, financial services are more than a commodity. We can leverage digitization to expand on the strengths of our movement.

Different players have different roles. We want to be competitive at what we do best. Our advantage is not in writing or maintaining software. We look to partners for this. We do not necessarily need to own the software. There are others that have this experience.

We have to assess risk. As we open up to other players in the marketplace, we do so by assessing:
Is it good for members?

What is the risk of doing so?

Is it cyber secure?
We partner with national systems. The national associations and the regional confederations are the aggregators. They organize joint negotiations with vendors, and bring scale and interface with the regulator. Most importantly, they need to bring leadership.
Connect with the National Payments System. Consumers want money to be free. People want to seamlessly move their money through payments from one institution to another, not simply within or among the credit unions. This is the importance of interoperability – to allow members to use their credit union accounts to support their other economic activities through open loop systems.
Build on existing initiatives. Our partners have done a lot of work to date to build their digital channels and systems. We do not look to replace it all with something new but rather to build upon the existing infrastructure, improve it and gain scale.
This is one of the most challenging tasks we have taken on at a global level and one of the most stimulating and fun. We are grateful to all of you for your support in enabling us to engage with the Gates Foundation for this and for those of you who have engaged as volunteers to take this to credit union systems around the world.
Safe travels,
B-
Brian Branch
President & CEO
World Council of Credit Unions