2019-05-10
"Whether you live in Central Indiana or the borders of South America, your local credit union is doing whatever it takes to spread the cooperative principles that credit unions were built upon."

- Kevin Ryan, Financial Center First Credit Union's President & CEO

During May and June, Field Notes spotlights global champions who go into the field with us, sharing their time, talent and treasure, aiding World Council in its mission to grow cooperatives worldwide, which results in changing the daily lives of members everywhere. In doing this valuable work, they are sustaining and expanding the cooperative principles that make us credit unions.
Here is their unique journey and their WHY and VALUE behind supporting global credit union development.
A desire to share knowledge and leverage valuable member resources outside the community they serve can be a risky business decision for any credit union. But its those that see a connection, a benefit to keeping a strong bridge between our local and global cooperative movements that gain the greatest return, an ROI in business and social responsibility.
Kevin Ryan, CEO and President of Financial Center First Credit Union, based in Indianapolis, understands this deeply, given the credit union's work in providing immigrant populations in Indiana with financial education.
Ryan and Financial Center, a three-time national winner of CUNA's Adult Financial Education Award, was chosen to speak at World Council's Education Summit in Colombia due to the credit union's experience providing responsible money management courses to its members, community and Indiana's immigrant population.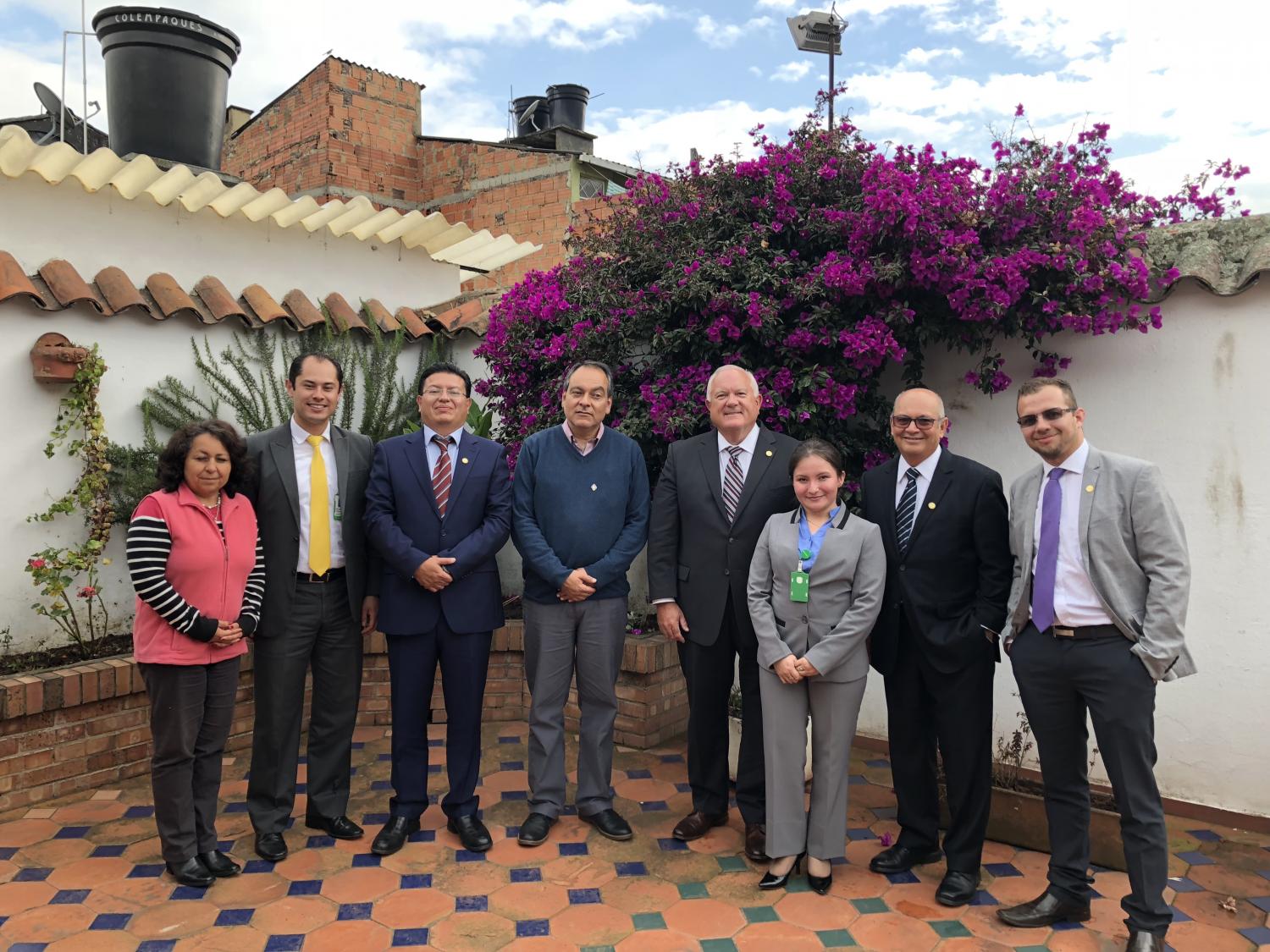 Worlds Collide: Kevin Ryan and Financial Partners gathered with World Council staff and Colombian cooperative movement leaders in Bogota, Colombia

In Indianapolis via Indiana's Consul de Mexico, 3,000 Mexican immigrants annually are offered financial education and services. Ryan was invited by World Council to share this experience and other work related to a key South American project funded by Banca de las Oportunidades, a WOCCU partner in Colombia. Expanding financial literacy both locally and globally is a growing initiative of Financial Partners.
Under Banca, field agents travel to border areas via motorcycle to offer mobile banking services, support financial literacy activities to improve savings mobilization, and increase knowledge about financial services and products being offered. Banca also links small and medium business enterprises, entrepreneurs, and farmers with local organizations. As of March Banca has provided 262,226 Colombians with these services and education, far surpassing its original goal of 210,000.
Bringing these services is not as simple as walking across the street to provide aid. Often these services are brought via motorcycle on dirt roads, traversing mountain paths, traveling rivers in small boats and overcoming fear of conflict with armed guerrillas.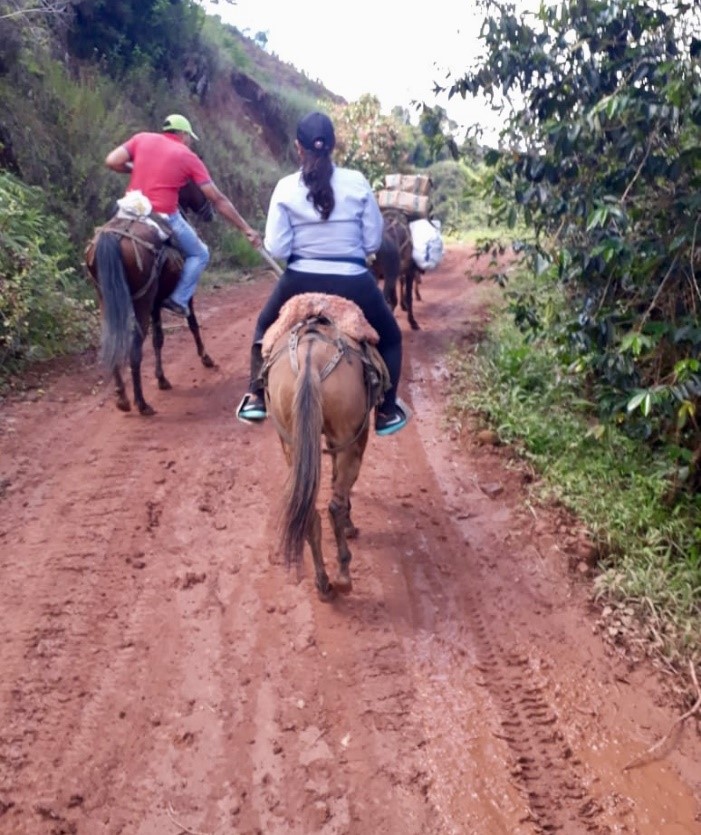 Bringing financial literacy by mule in the mountain regions of Colombia

Ryan and Marco Dominguez, Financial Center's Director of Community Relations, wanted to hear about work firsthand, while sharing their local successes with Oscar Guzman, World Council's Director of Projects in Colombia. What they heard from Oscar strengthened their resolve further about the value in supporting global credit union development and highlighting this support with Financial Center's diverse membership. They had the opportunity to speak to local credit unions and several Colombian government agencies about their business practices—focusing on mobilizing financial literacy outreach and developing strategic planning as a credit union competency.

"Helping in Colombia helped me realize the real depth of the issue. Learning from the World Council team about its efforts, traversing rough terrain and accepting danger to reach the unbanked so people living in remote societies can begin to save and build wealth in a way that would support their later years was eye opening. The lack of financial literacy to these people, these communities, is devastating."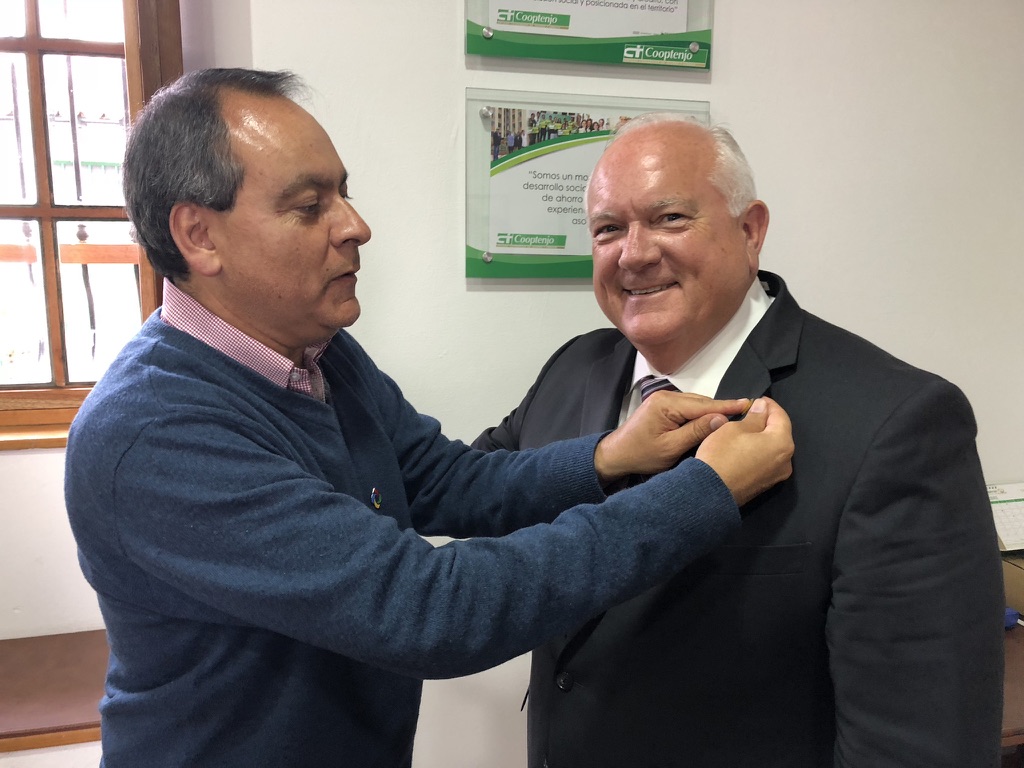 Kevin Ryan, CEO of Financial Center First Credit Union exchanging pins with Victor Hugo Camacho Correa, General Manager of Cooptenjo, a Colombia cooperative.

"People in our business need to understand the need for help. Who's going to help them? Us—credit unions. Through our support, World Council can sustain this valuable work."
How can your credit union leverage its work, skills and resources to impact communities worldwide? Learn more about how you can do all of those things through World Council's Worldwide Foundation at DoGlobalGood.org
About Financial Center: Financial Center First Credit Union is a $560 million credit union that has been serving members who live or work in Boone, Brown, Hamilton, Hancock, Hendricks, Johnson, Marion, Morgan, Putnam, and Shelby Counties as well as other special groups for 65 years. Over 60,000 members take advantage of favorable deposit and loan rates as well as reduced fees by banking with the Indianapolis-based credit union. Financial Center is a not-for-profit entity that employs 143 people. Guided by a dedicated Board of Directors, Financial Center's mission is to 'Improve Members' Financial Lives'. Learn more at www.fcfcu.com.

Mike Reuter is the Executive Director of the Worldwide Foundation for Credit Unions, the 501c3 charitable nonprofit that supports the World Council of Credit Unions in its mission of providing financial inclusion to millions worldwide by offering tools and engagement experiences to credit unions looking to do "Global Good" through the credit union movement. Connect with Mike at mreuter@woccu.org.

Make a contribution today to grow our movement worldwide while providing financial freedom to members everywhere.