2020-02-06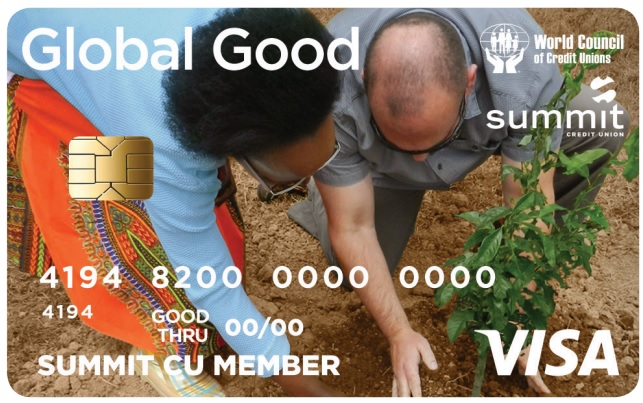 As credit union employees, we experience the power of reliable, affordable financial services each day. But there are millions of people who aren't so fortunate. We believe everyone can be financially successful if they have the tools and resources credit unions provide. And that's why we launched the Global Good Card: A new way to bring the credit union philosophy to life.
The Global Good Card (GGC) Program is a credit card offering for credit unions that allows the credit union and its members the ability to contribute to the international development projects managed by the World Council of Credit Unions (WOCCU). The program is designed to attract new, socially minded members, generate revenue and provide members with the opportunity to give back on an international scale. Members may be more inclined to adopt the card given the charitable dynamics around the credit union fee structure and the member options to donate reward points.
5 'Good' Reasons to adopt the Global Good Card:
Attract New Members: Millennials leveraged over $200 billion in buying power in 2018 and, with that number expected to only go up, you can integrate the perfect product that aligns your business and social responsibility goals.
Generate Revenue & Rewards: That benefit both you and your member's bottom line. Your members will have no annual fee and will receive the same benefits as similar cards, without impacting their rewards points already earned.
Be Socially Minded...on a Global Scale: Give your members a chance to make an impact on a global scale. Leverage success stories from World Council's program updates to share with your members and showing them how their cards are Doing Global Good worldwide.
Ready to launch: We've done the heavy lifting and provided a very simple process to get up and running with the Global Good Card. All you need to do is register your interest at www.doglobalgood.org/globalgoodcard and download the GGC Toolkit.
Go to market strategy: We've partnered with Ser Tech as the marketing and deployment arm for the Global Good Card. Ser Tech will work with credit unions to market the card to members and potential members. Ser will leverage its industry-leading Fetch Marketing services to identify and pre-qualify members and non-members who meet the credit union's credit criteria.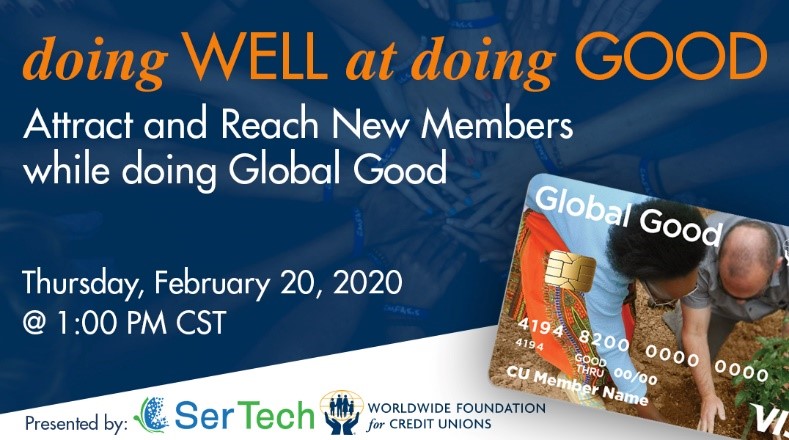 NOW, DOESN'T THAT SOUND GOOD! WANT TO LEARN MORE? Join Michael Reuter, Executive Director – World Foundation at WOCCU and Shana Richardson, CEO – Ser Technology on February 20, 2020 to learn how credit unions are making a world of GOOD!

Register now: https://zoom.us/webinar/register/1815797253357/WN_bDpA0ICHTcSbWRZv8eZ1IQ